Meet Dr. Smith
Dr. Shayla Smith was born in Rockton IL and attended Rockton schools and Hononegah High School. She graduated Summa Cum Laude from Augustana College in Rock Island IL in 1995 with both Speech/Language Pathology/Audiology and Spanish Majors and a Psychology Minor.
After Augustana, she attended the University of Arizona in Tucson, AZ where she earned her Master of Science degree in Audiology. She began her internship in Audiology in 1997 in Tucson, then continued practicing professionally in San Antonio TX for three years.
Dr. Smith and her family moved back to the Midwest in 2001 and she worked in Hoffman Estates IL for 3 years in a private audiology practice. They relocated to Roscoe IL in 2005 when Shayla was hired as the Audiologist for the Beloit Clinic ENT department. After 5 years with the clinic and completing her Doctorate degree in Audiology from AT Still University School of Health Sciences in Mesa, AZ, she decided to leave the clinic for her own private practice.
As a person with hearing loss herself, Dr. Smith wears hearing aids in both ears and understands many of the issues her patients face with hearing loss and hearing aid use. She is passionate about providing every one of her patients with professional and personalized care. She hopes to fully understand each individual's needs and expectations and guide him or her toward the best outcomes. Dr. Smith now owns Beloit Hearing and through her audiology practice, she and her staff have built lasting relationships with patients and their families. They hope to be recognized for years to come as the best place to go for hearing health care.
Shayla lives in Roscoe, IL with her husband, Steve, and has three adult children.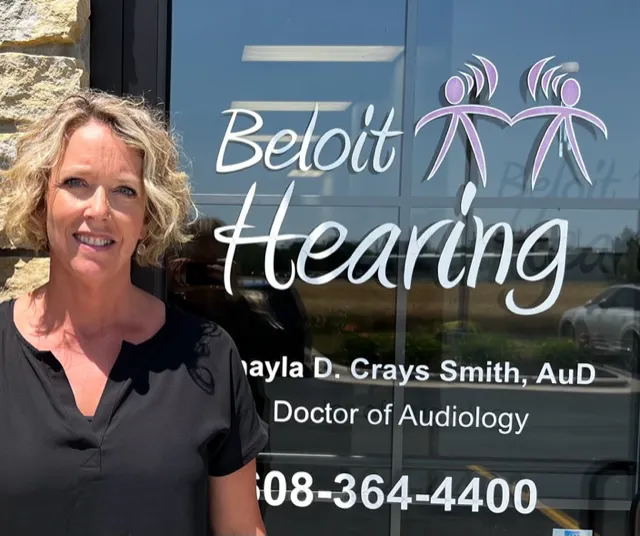 Stephen
Shayla is an INCREDIBLE Audiologist. She is extremely kind, patient, and personable. She will help you with all your hearing needs in a patient focused way. Cannot recommend her high enough!
Frequently Asked Questions
What are your prices for hearing aids?
Our regularly posted prices range from $900-$2600 per aid.  Occasionally we offer additional discounts and will always be sure our patients are getting a fair price for our services.
Does my insurance pay for hearing aids?
That is a good question and the answer is "maybe".  Some plans do cover some if not all of the cost of hearing aids.  However, more often, insurance plans are offering "discount networks" instead of paying for the services.  These networks will allow you to purchase the hearing aids and services through them, in partnership with offices like ours.  Sometimes this is a more affordable option, and sometimes it is not.  We will always consider ALL options before you make your final decision.
How long does a hearing test take?
The test is quick.  Ten minutes.  However, most people don't come to us for just a test.  They are in need of a hearing aid and consultation on all the available options and perhaps a demo or two.  That can take up most of the hour and a half that we allow in our schedule.  We know hearing solutions are a big purchase and we take time to answer all your questions.
Should I bring someone with me to my appointment?
You sure can, but it is not required.  Our office is small and cozy.  There are at least 2 chairs available in the evaluation room, so feel free to bring a loved one or not.  Sometimes our patients feel that having someone with them to help understand all the important information is helpful.  But if you're more of an independent decision maker, we like that too!
Do you sell batteries? How much do they cost?
Yes, and they are $4 per pack of 6 when paid at the counter.  Watch for sales too.  At times, we advertise our "buy two, get one free" offers in the local paper.
Can you clean my ears if I have earwax?
Of course.  We understand that not many providers in the area do, but we are happy to provide that much needed service.  Clean ears are important, especially if you are a hearing aid user.  We charge $20, can bill insurance if appropriate, and it only takes a few minutes. 
Do you see children?
We see school age and older children, but do not specialize in pediatrics.
Is your office handicapped accessible?
Yes. There is handicapped parking to the right and the left of our suite, and our office and bathroom are accessible.